To find me, head for the Castle and with it to your right walk down to the canal (you can't miss it but don't fall in!, there is also the River Neet, the castle is in between the two, you can't mistake them, you can walk along the canal but not along the river (at that point anyway). When you get to the canal turn right towards the sea and you will find a row of low buildings on your right (canal on your left) and I am next to Daisy Crafts with my door facing the canal (not to be mistaken for the glass studio next door whose door faces the sea). I have a sign above my door and if I am in there will be a sandwich board by my door saying open. Alternatively from the visitors centre car park, cross the road and walk along the canal with the Olive Tree to your right and the canal on your left. If you type Acorn ish studio into Google it should come up with where we are on your mobile or tablet.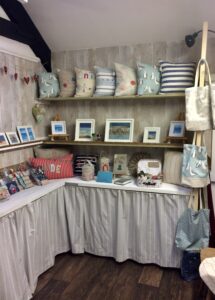 There is plenty of parking either in the car park by the canal or behind the parkhouse centre (easy to find) and the whole Lower Wharf area is well worth a visit. There is Bude Castle which now houses the museum and has art exhibitions, and also houses a tea room and gift shop; there are several other workshops by the canal basin, including Wharf Woodcraft, Three Bees of Bude, Kernow Fleece, and the other side of the The Olive Tree is Beau Nidol. Just before The Olive Tree is a little courtyard where you can find a fabulous fishing tackle shop. From Good Friday to the end of September there is the Bude Farmers' and Craft market on the green by Wharf Woodcraft, every Friday 10 – 3 with stalls selling local produce and crafts. We also have a local convenience store and Post Office and Bude Library.
In terms of food and drink, Bude Wharf offers lots of options; there is the Olive Tree restaurant and a snack kiosk and of course ice cream kiosks (some of these only open in the summer). You also have (just the other side of the canal) The Brendon Arms pub and The Falcon hotel serving great food and drink.
You can also hire a rowing or paddle boat and explore the canal. There are ducks to feed and sometimes the Cormorant comes to sun himself and fish. You can also walk along the canal inland through the wonderful nature reserve and you just might catch a glimpse of our resident Kingfisher family.
So the Wharf is a great place to visit, so much to do and see, you might just need the whole day.